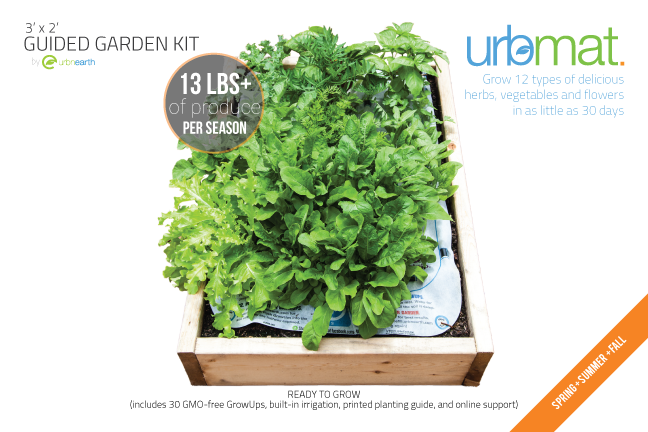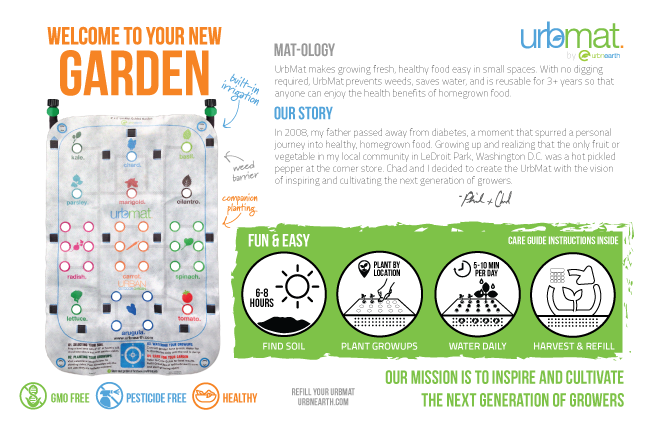 URBNEARTH RETAIL PACKAGING DESIGN
UrbnEarth creates guided growing kits that help new gardeners who lack knowledge, time and think they don't have space, grow 13+ lbs of fresh produce per season. We're focused on making sure that everyone growing up knows how to grow their produce and that access is a yard away.
UrbnEarth setout to redesign their packaging label to reflect the UrbnEarth ethos regarding healthy living combined with an easy to use product that allows people to access the health benefits of homegrown food. Because the plant selections can change through the year, designing a single sleeve would not work as the  company brings the UrbMat to market in many cities and countries around the word. A sticker with postage stamp edges will be affixed to the box showing the plant types and product SKU.
PACKAGING REQUIREMENTS:
The box should:
Protect the product; transport the product through the entire distribution system
Communicate at retail what the brand stands for and its promise to consumers.
Embody the sustainable, societal and environmental message of the brand
Educate the consumer; in-store and maybe at home, too
Keep the product secure or be "tamper evident"
Potentially be repurposed after purchase
Possibly dispense the product
Show the product on the outside of the box
Focus less on size and more on the GUIDED GARDEN
Not show confusing elements of the product, just the sizzle and easy points
Show the UrbMat is easy and especially fun
Show the mission of the company
Show how much the UrbMat grows
Messaging that tells the user when to expect the results
All you need is soil and sun (what is needed)
GMO-free